Orange, Coral and Tangerine were a hit on the fashion runways in Paris, Milan and London last month and already Hollywood stars have appeared in orange floral prints. So you might think that orange is a new fashion color. But just look at rooms from the 1960's and 70's by legendary decorators Billy Baldwin and David Hicks and you will see that orange rugs, coral rugs, terracotta rugs, tangerine walls, and citrus colored fabrics were very fashionable in the 60's and 70's and still are today with decorators Jamie Drake, Mary McDonald, Katie Ridder, David Easton and many others. The 16 high fashion interiors in this post are a great way to learn how to decorate with orange and it's many mellower shades.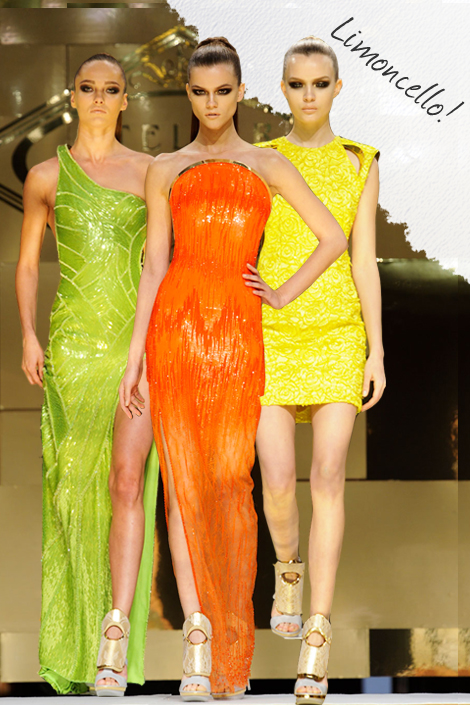 Atelier Versace Spring 2012 Couture, Paris. Image courtesy Elle magazine.
Orange, coral and terracotta are flattering to the human skin and to everything around. Recall how nature scenes look most beautiful when seen in the orange light of late afternoon and early evening.
Orange is red with yellow added so it is full of light. If orange is used full strength it can overpower everything around it. In most of the interiors below the orange has been mellowed by adding a little yellow, white or pink to it. You will see how many different ways interior designer use orange. In many cases the orange is used on the walls or fabrics and the rug is a neutral color or a neutral with small amounts of orange in it.
1. David Hicks was the master of mixing small scale geometric patterns in decorator rugs and fabrics with antiques. The orange in the geometric rug is grounded by a dark brown background.
2. Billy Baldwin's timeless living room has a sublime color palette of orange, coral, dark brown, cream with pops of yellow, blue, green and pink grounded by a tan decorator rug. Image courtesy Peakofchicblog.

As you study the color palette in the rooms in this post, it will be helpful to keep the color wheel in mind. Notice how interior designers use colors adjacent to orange to create harmonious layering and use small amounts of colors from the opposite side of the color wheel to create pop.
3. Cote de Texas Blog featured this beautiful room by an unknown designer. The muted orange accents in the taupe and gray Oushak rug ground the vibrant orange of the silk drape.
4. Meg Braff's Chinoiserie themed entrance has a stunning color palette of orange with chinese red, white, yellow, blue and turquoise grounded by a taupe rug bordered in black.
5. Susan Nelson's imaginative color composition with orange has large amounts of blue and white grounded by a green and white geometric Asmara Needlepoint rug.
6. Melanie Elston gives the traditional furniture in this living room modern drama by pairing orange with colors from the opposite side of the color wheel: blue, plum and a purple decorator rug.
7. Jamie Drake's seating area shows the power of orange when used full strength. The white contemporary wool rug has pink, purple and lavender circles to cool down the orange a bit.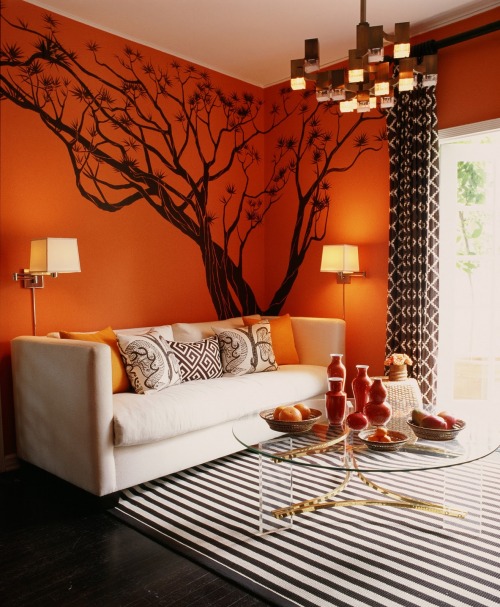 8. Mary McDonald has toned down the orange with grey and brown and restricted the color palette to just orange, brown, grey and white. The energy of the orange wall is pumped even more by the grey and white striped decorator rug.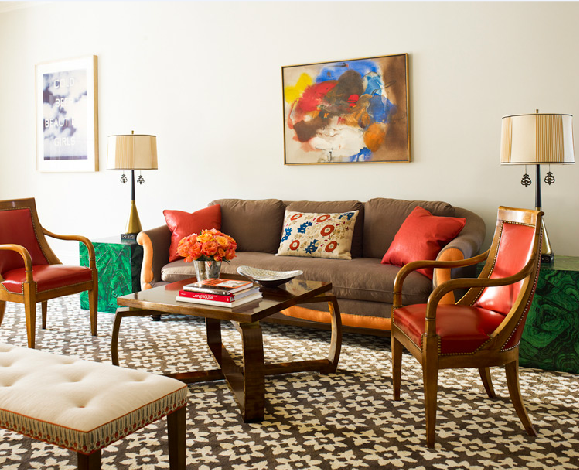 9. Katie Ridder shows how to create energy and pop with small amounts of orange paired with colors from the opposite end of the color wheel and how to ground it with a brown and white decorator rug.
10. McMillen, Inc. President Betty Sherrill's living room shows how much impact a small amount of orange can make when nestled among soft colors. The floral needlepoint rug is by Asmara.
11. Meg Braff shows how orange can be softened by giving it a pink tone. This is a very calming color composition with pale yellow, pink, tan, turquoise and grounded by a beige geometric decorator rug.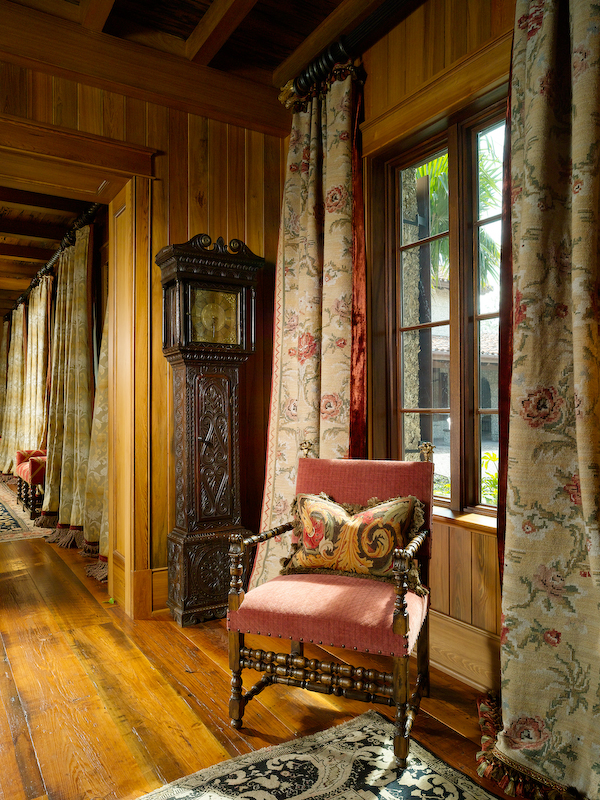 12. Lisa Torbett used oranges with a lot of pink. The drapes are hand sewn from Asmara's Barcelona needlepoint rug which is a copy of a rug owned by the legendary fashion designer Cristóbal Balenciaga.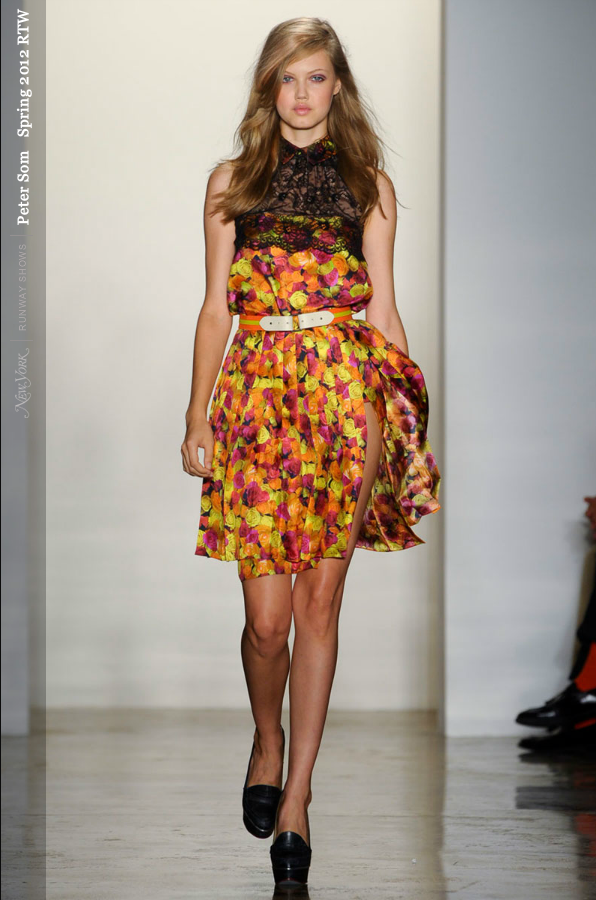 Peter Som's floral print as seen during New York Fashion Week. The print pairs orange with pink, yellow green and fuchsia.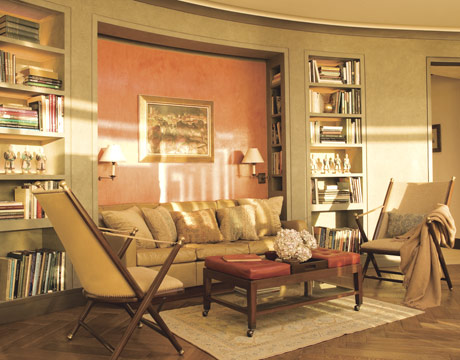 13. David Easton mellows orange with a good amount of pink and surrounds it with soft beiges, taupe, yellow, tan, wood tones and a cream decorator rug.
14. D'Aquino Monaco uses an orange with so much pink that it could also be called a pink with some orange. The yellow and white contemporary wool rug lightens the effect of the dark plum drapes.
15. Eldon Wong's orange rug is softened by the gold geometric pattern. White, dark brown and tan create a warm ambience.
16. Christina Murphy's living is both warm and calm. The coral Oushak rug and the upholstery fabrics have energy, but they do not scream. The orange wall color has a good amount of white and some pink.