Updated July, 2016. The 15 best celebrity interiors with decorative rugs from Vogue are unique for two reasons, firstly all but one were designed by a fashion designer, without the help of a decorator, and secondly all the images are by Vogue's world class fashion photographers. These pictures show what is possible when fashion designers and fashion photographers collaborate on interior design.
A blue and cream oriental rug adds romantic energy to Chanel's 2014/15 Collection shown in Austria's rococo 18th-century Castle Leopoldskron.
1. A gold Aubusson rug with acanthus scrolls lends stature to the wood paneled library seen from the gallery doors of Tory Burch's Gatsby era Southampton house.

The view into the library is framed by a black and white marble floor, white walls, boxwood topiaries placed within shelled alcoves and two antique chairs upholstered in needlepoint tapestry. The symmetrical arrangement feels both classical and fresh.
2. A geometric rug with a small repeating brown and white pattern adds texture and warmth to Tory Burch's solarium. The colors and pattern of the rug tie together all the elements in the room such as the antique blue-and-white china, brown and white geometric wall covering and woven chairs.
3. Two neutral rugs anchor two seating areas in the living room which Tory Burch created out of a former ballroom. A pair of Louis Seize needlepoint chairs, brass-and-crystal chandeliers, hand-colored Japanese botanical prints and coral draperies add layers of color, texture and pattern.
4. A tone on tone white rug with a textured floral pattern pulls together antique Imari ironstone and a Colefax and Fowler floral wall covering in Tory Burch's bedroom.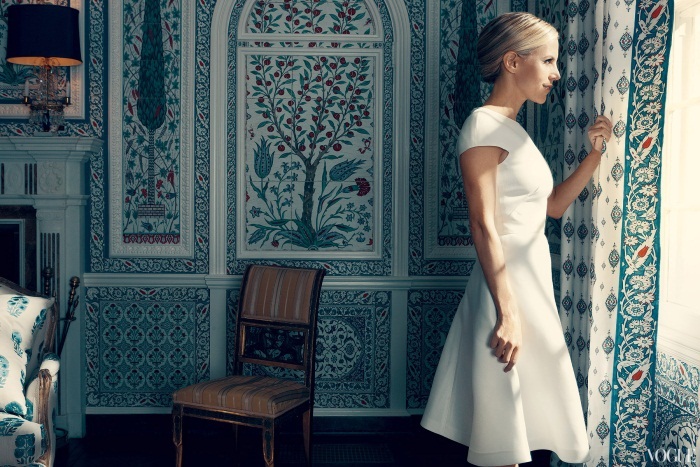 5. Tory Burch looks out of the window of her dining room. The exotic wall panels are based on Turkish Iznik tiles and were custom made by Iksel, the Paris-based wallpaper company.
6. A gold Bessarabian rug complements an armchair upholstered in a boldly patterned fabric and an Egyptian stool in the living area of Christian Louboutin's boat on the river Nile.
7. A Bessarabian rug with a vibrant floral pattern in yellow, green and purple pulls together apple green walls, lime green bookcases, pink high chair and two Campana Brothers 'Favela' chairs in design consultant Stephan Hamel's workroom in Tuscany. Image © Paul Barbera courtesy of Vogue Living.
8. A black Bessarabian rug with a vibrant floral pattern in pink, emerald green and yellow complements purple walls, pink contemporary chair and yellow ceiling in the sitting room in Stephan Hamel's house in Tuscany. Image © Paul Barbera.
9. A white rug with thin textured stripes anchors a George Nakashima table and oversize wooden bowls in the living room of Aerin Lauder's Aspen home.
10. Moroccan rugs in grey and white define several seating areas in Peruvian born fashion photographer Mario Testino's art filled living room in Los Angeles.The model's brown, black and gold outfit recalls Peruvian art.
Testino didn't work with an architect or decorator and told Vogue "I'm so obsessed with it" (the creative process), I have no real training in the history of fine art or furniture; my eye just works by proportions. I react intuitively." "Coming here, I was inspired by rusts and browns and greens and ochers. The light is so bright, all of a sudden bright colors become garish; they look like bubble gum."
11. A Moroccan rug in dark brown and gold pulls together the Zebra pattern upholstered stool, Rob Pruitt's Moonlight Bamboo I (2001) and an embossed leather and wood Peruvian colonial bench. The model's outfit in a mix of patterns in grey, brown and ivory resonates with the furnishings.
12. Two cream and brown geometric rugs complement Hispano-Moresque furniture and modern art in the hallway of Mario Testino's Los Angeles home.
13. The late L'Wren Scott in the living room of the Paris apartment she shared with Mick Jagger.
The turn-of-the-century apartment on Paris's Left Bank is one of several homes fashion designer L'Wren Scott designed for herself and Mick Jagger. Scott applied her meticulous dress designer skills in choosing paint colors .."seeing what looked good on bright days, wintry days, in summer, at night," she told Vogue. The living room's sinuous curtains were dyed by the same silk manufacturers who made fabrics for her signature evening dresses worn to the Academy Awards by Madonna, Sarah Jessica Parker, Angelina Jolie, Nicole Kidman, Penélope Cruz and Amy Adams and for such clients as Naomi Campbell, Reese Witherspoon, Christina Hendricks, Jennifer Lopez, Sandra Bullock and Uma Thurman.
14. An intricately patterned oriental rug in vibrant reds, gold and blue anchors a custom Christophe Delcourt table and gray lacquered chairs in the dining room of L'Wren Scott and Mick Jagger's Left Bank apartment.
15. An intricately patterned oriental rug in faded red, black and cream anchors a curved desk in the study of L'Wren Scott and Mick Jagger's Paris apartment. Andy Warhol's portrait of a young Mick Jagger hangs above the desk.
All images courtesy Vogue and Vogue Living Australia.