Bessarabian rugs are 18th and 19th century Russian creations that have become a favorite with many designers over the years. Bessarabian rugs originated several hundred years ago in Russia where the Royal family commissioned local weavers to make copies of the grand French Aubusson and Savonnerie rugs that were extremely popular amongst the Russian nobility. Bessarabian rugs have their own look. While French rug designers drew inspiration from major works of art, the Russian weavers copied the French designs in a more informal way which gave these rugs a less formal charm. Bessarabian rug have become highly desirable for very different modern decorating styles than what they were originally intended for.
A red, gold, green and black Bessarabian rug and Brunschwig & Fils La Portugaise sofa fabric are the stars in Brooke Astor's red-lacquered library designed by Albert Hadley . The New York Times called it "one of the most admired interiors of the 20th century." Image courtesy The Devoted Classist.
Bessarabian rugs became favorites of many different designers over the years, and it's interesting to see how those designers used the rugs in their designs. From Albert Hadley, who allowed a Bessarabian rug to take center stage in the designing of Brooke Astor's private home library in NYC to David Easton and Bunny Williams who have designed stunning rooms with Bessarabian rugs.
You may think that if you have a certain color or style Bessarabian rug, you're restricted by how you can use it in a space. Nothing could be further from the truth. Bessarabian rugs are flexible in how they can be used in a room. If you've got a Bessarabian rug with a faded pink floral pattern, you may think that it would only be appropriate in a traditionally designed room filled with chintz and tassels. If chintz and tassels are your thing, then by all means go with it. If your idea of living room heaven is a Danish gondola sofa alongside a Jens Risom credenza and seven-foot high Ansel Adams prints placed around the room, that very same faded pink Bessarabian can still bring unbelievable beauty into the room. Bill Blass said, "Style is primarily a matter of instinct," so go with what feels right at the time.
Lee Radziwills Red Room with Black Bessarabian Rug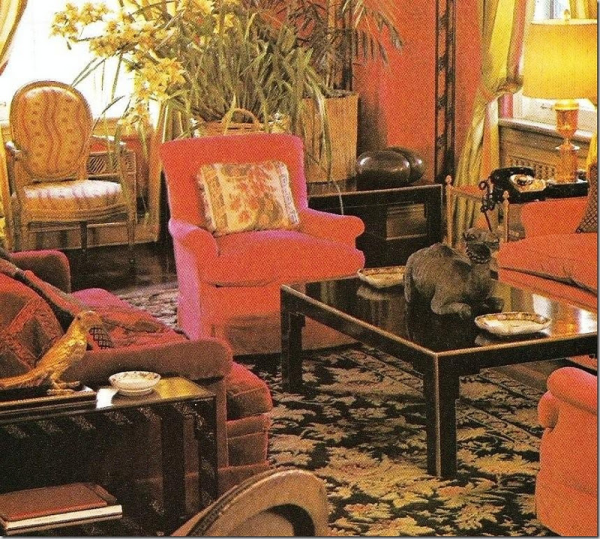 A black Bessarabian rug adorns Radziwill's Fifth Avenue duplex in NYC designed by Renzo Mongiardano. Image courtesy Cote de Texas Blog.
Lee Radziwill, whose life would have been dismissed as unbelievable had it been presented as a screenplay, is one of the most fascinating women in the world. Her sense of style has not diminished over the years and has, in fact, increased. She's fiercely loyal to the things she loves, as evidenced by the fact that she's carried key design elements with her from home to home. You may reason that carrying our cherished items with us as we move from place to place is something that most people do, but when you're talking about something like a massive, black Bessarabian rug, moving it from place to place is different. How can you move Bessarabian rugs from one home to another? Wouldn't that mean that your décor needed to be the same in every home? Absolutely not.
The image above is a small detail of Radziwill's apartment in New York shortly after she arrived in the 60s. She worked with design legend Renzio Mongiardano to create this vibrant space with black lacquer tables, red silk moire walls, gold gilt and the black, floral Bessarabian rug. "Tailored glamour with a touch of exoticism" is a phrase that comes to mind.
Lee Radziwills Regency Dining Room with Black Bessarabian Rug
After her divorce from Stanislaw Radziwill in 1974, Lee moved from the the Fifth Avenue penthouse to a smaller apartment on Park Avenue. The black, cream and gold Bessarabian rug, the Regency dining table and the Duke of Beaufort botanicals are now in a sunny and airy environment that reminded Lee of Turville her English country manor house. Image courtesy Cote de Texas Blog.
Lee Radziwill's White Living Room with Black Bessarabian Rug

Lee Radziwill's latest NYC apartment featuring the same Bessarabian rug. Image courtesy Elle Decor.
It's hard to believe that this picture shows the same Bessarabian rug, but it does. After her divorce from Stanislaw Radziwill, her nexttwo homes in NYC featured the very same black Bessarabian rug, but it's effect on each room is completely different. In the red room at the Fifth Avenue duplex, the rug was the key influence for the other elements in the space.  In this white, airy and light space, while the gold and black accessories are still present, they function more as subtle accents.
The best Bessarabian rugs are extremely flexible and will work in both modern and traditional interiors which is why design legends such as David Easton keep inventing new ways of using them.
David Easton chose a custom Asmara Bessarabian rug this living room in a Dallas home. Yellow walls, wood beam ceiling, a rustic chandelier, a glowing fire and floral arrangement create a relaxed, inviting and sophisticated ambiance. Image courtesy David Easton, Inc.