Through three marriages, several life style changes, many homes including a townhouse near Buckingham Palace, an English country manor house in Buckinghamshire, a Fifth Avenue penthouse, a Park Avenue duplex and a Paris apartment near the Bois de Boulogne, Lee Radziwill has changed her decor many times, but the few things she has kept are her favorite antique Bessarabian rugs, paintings and select antiques. In today's post we discover how her favorite objects helped her stay at the peak of chic for so many years.
Lee Radziwill, younger sister of First Lady Jacqueline Kennedy Onassis has been an international celebrity for over 50 years. Above on the cover of LIFE in 1967 and People in 1976.
Lee Radziwill wearing a caftan, a gift from Hassan II of Morocco, with her daughter, Tina in her "Orientalist fantasy" drawing room in her Georgian townhouse at 4 Buckingham Place, London (four blocks south of Buckingham Palace). Newly decorated by her mentor Renzo Mongiardino who used many yards of Indian hand-blocked cotton known as Palempore, a forerunner of English chintz fabric. Jacqueline Kennedy stayed here while First Lady and dined with the Queen at Buckingham Palace. Photo: Cecil Beaton.
Lee Radziwill and her son, Anthony in her Renzo Mongiardino  decorated London drawing room photographed by Cecil Beaton for Vogue's December 1966 issue.
Jackie Kennedy and Lee Radziwill leaving 4 Buckingham Palace for dinner with the Queen.
Jackie Kennedy and Lee Radziwill in London. William Lovelace/Express/Getty Images
Lee arriving at her house in London, July 26, 1976
Jackie Kennedy in her Georgetown house five years before Renzo created the Orientalist fantasy for Lee Radziwill in London with Bessarabian rugs and Palempore fabrics. Note the similarity in fabrics. Image courtesy Cote de Texas.
Lee Radziwill and Jackie Kennedy in Conca dei Marini, Italy in 1962. Benno Graziani-Photo
Renzo Mongiardino selected a cream, black, gold and green Bessarabian rug to anchor the floral wall coverings in the entrance of Turville Grange, the English county manor house in Buckinghamshire Lee shared with her second husband, Polish nobleman in exile Prince Stanisław Albrecht Radziwill. Lee wanted a house filled with flowers. According to the New York Times Renzo Mongiardino did some of his most creative residential work for Lee Radziwill. Image courtesy Cote de Texas.
The room between the living room and the library has birds and a parrot. Image courtesy Cote de Texas.
Lee Radziwill framed by the room's floral wallcovering in a photograph by Horst for the September 1971 Vogue, UK.
photograph by Horst, Vogue, July 1971
The
Anglo- Indian botanical watercolors were a gift from the
Duke of Beaufort and moved through the years along with the antique
Bessarabian rugs
to Lee's Fifth Avenue and Park Avenue apartments.
Image courtesy Cote de Texas.
 Mark Hampton called Mongiardino "an alchemist". Hampton painted this watercolor of Lee's bedroom designed by Renzo Mongiardino at Turville Grange. Years later the painted geometric rug showed up in Lee Radziwill's Fifth Avenue bedroom as well as her other apartments. 
Lee Radziwll in her dining room in 1976. An orange and cream geometric rug complements gothic style dining chairs. Getty Image.
Soon after President Kennedy's assasination Jackie moved from Washington to an apartment in New York so young John and Caroline could have more privacy. Bobby Kennedy persuaded Stanisław Radziwill to allow Lee Radziwill to move with their two children from London to New York so they could all keep Jackie, John and Caroline company. Lee asked Renzo Mongiardino for decorating advice on this duplex penthouse on Fifth Avenue. The red theme is reminiscent of stage sets Mongiardino did for Franco Zeffirelli. Renzo suggested Lee use a large Bessarabian rug in the living room. The Bessarabian rug can be seen in the next image.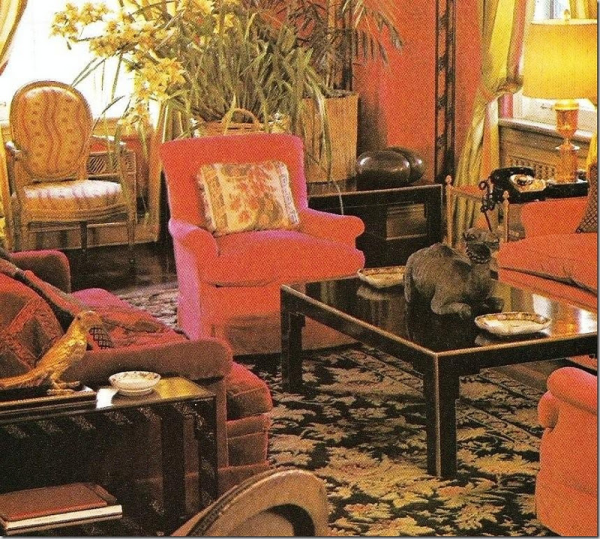 Renzo Mongiardino selected this black, gold, green and red Bessarabian rug for the very large living room on Fifth Avenue. Lee says that she starts her room design by selecting the rug first. The black lacquered coffee table and the red silk moiré walls take their cue from the Bessarabian rugs color palette. Image courtesy Cote de Texas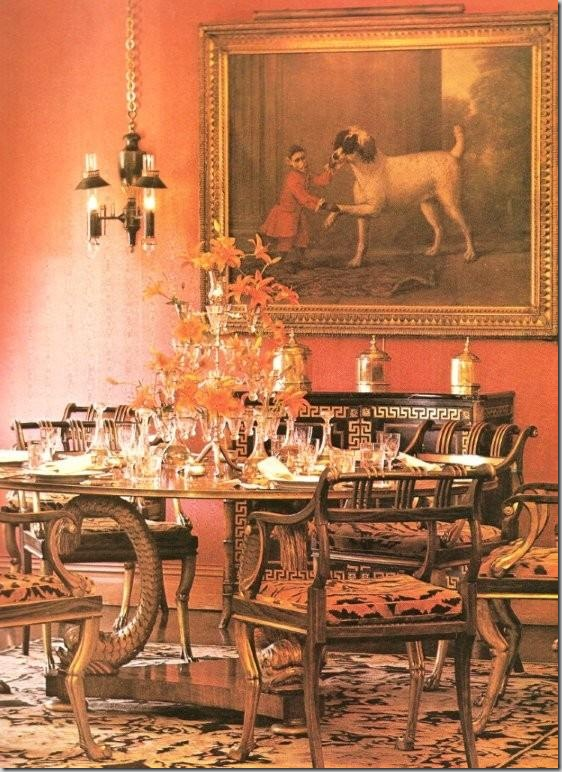 The dining room also has a black cream, gold and red Bessarabian rug. The rug again sets the color palette for the room. The Regency table and chairs also moved along with the Bessarabian rug to Lee's future apartments. Image courtesy Cote de Texas
 The black and gold Bessarabian rug complements the dining room's red moire fabric upholstered walls. The 18th-century English dog painting is by John Wootton. Image courtesy Architectural Digest. 
 The master bedroom has the light and airy botanical feeling of Turville Grange Lee and Stas's  country manor house in England. The geometric rug pattern painted on the floor is ths same as in her bedroom in Turville and depicted in the color rendering by Mark Hampton. The textured cream decorative rug adds warmth and comfort. The botanical watercolors also travelled with the Bessarabian rugs and decorative rugs from England to New York. Image courtesy Cote de Texas
 While she lived on Park Avenue, Lee worked briefly as an interior decorator in a style influenced by Renzo Mongiardino. She said she once decorated a house "for people who would not be there more than three days a year." She was briefly an actress, traveled with the Rolling Stones during their 1972 American tour along along with her friend Truman Capote. Later Lee was a public relations executive for Giorgio Armani. She has authored two books, the first after her first trio to Europe with sister Jackie who sketched the drawings, and in 2003 an autobiographical coffee table book "Happy Times". Image from Cote deTexas.

Lee Radziwill in 1971 with Mick and Bianca Jagger in Montauk, NY. Photo © Peter Beard-Art + Commerce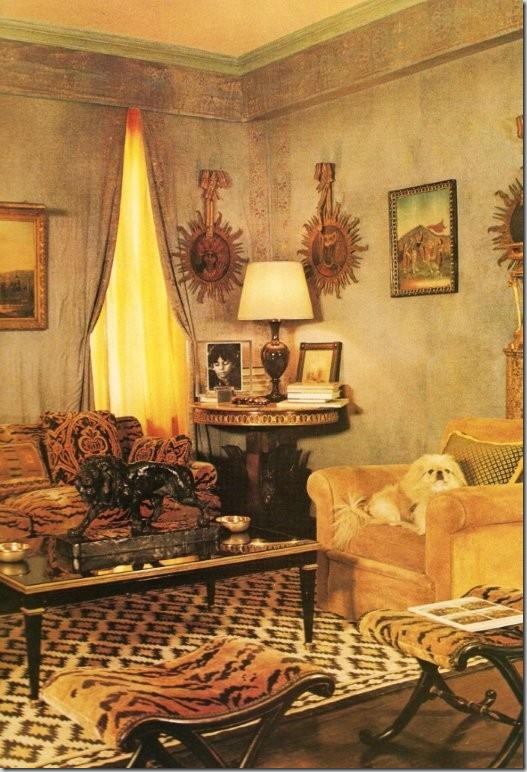 Lee's library at Fifth Avenue is anchored by a cream, gold and dark brown geometric rug, probably a Dhurrie. The rug's serrated diamond pattern complements the tiger silk velvet upholstery fabric. The paintings have traveled with Lee to her several apartments including the current one in New York.
After her divorce from Stanislaw Radziwill in 1974, Lee moved from the the Fifth Avenue penthouse to a smaller apartment on Park Avenue. The black, cream and gold Bessarabian rug, the Regency dining table and the Duke of Beaufort botanicals are now in a sunny and airy environment that reminded Lee of Turville her English country manor house.
Lee Radziwill's current apartment in New York was featured in Elle Decor. Note the Bessarabian rug in black, cream, blue and gold now supports a clean and airy room with white upholstery and walls. The mirror above the fireplace has traveled with the Bessarabian rug.

 Lee's current library in New York featured in Elle Decor is completely done in a documentary fabric from Le Manach. The room is a cleaner more airy version of Renzo's Orientalist fantasy drawing room in London done 50 years ago. 
Lee's Paris library also featured in Elle Decor is upholstered in a Louis XV documentary Chinoiserie fabric by Le Manach. The art deco giraffe has traveled with her.
Just today it was announced the Lee has put her Paris apartment on the market for $4 million. A friend said that at 84 she doesn't spend enough time there any more, prefering to stay in New Yorks at the Plaza Athénée.
Palempore Aubusson rug is inspired by antique Indian hand blocked fabrics such as Renzo Mongiardiano used in Lee Radziwill's homes.
Black Margate needlepoint rug, also available in a cream background as well as with blues and golds, is reminiscent of the floral wall coverings at Turville.